Ojoor # 1 is one of the top HR Software in Saudi Arabia In today's rapidly evolving business landscape, maintaining a high level of employee engagement is crucial for the success of any organization. Engaged employees are not only more productive but also more likely to stay loyal to their employers. Human Resources (HR) professionals play a pivotal role in fostering this engagement, and HR software has emerged as a powerful tool to streamline and enhance these efforts. 

Ojoor #1 HR Software in Saudi Arabia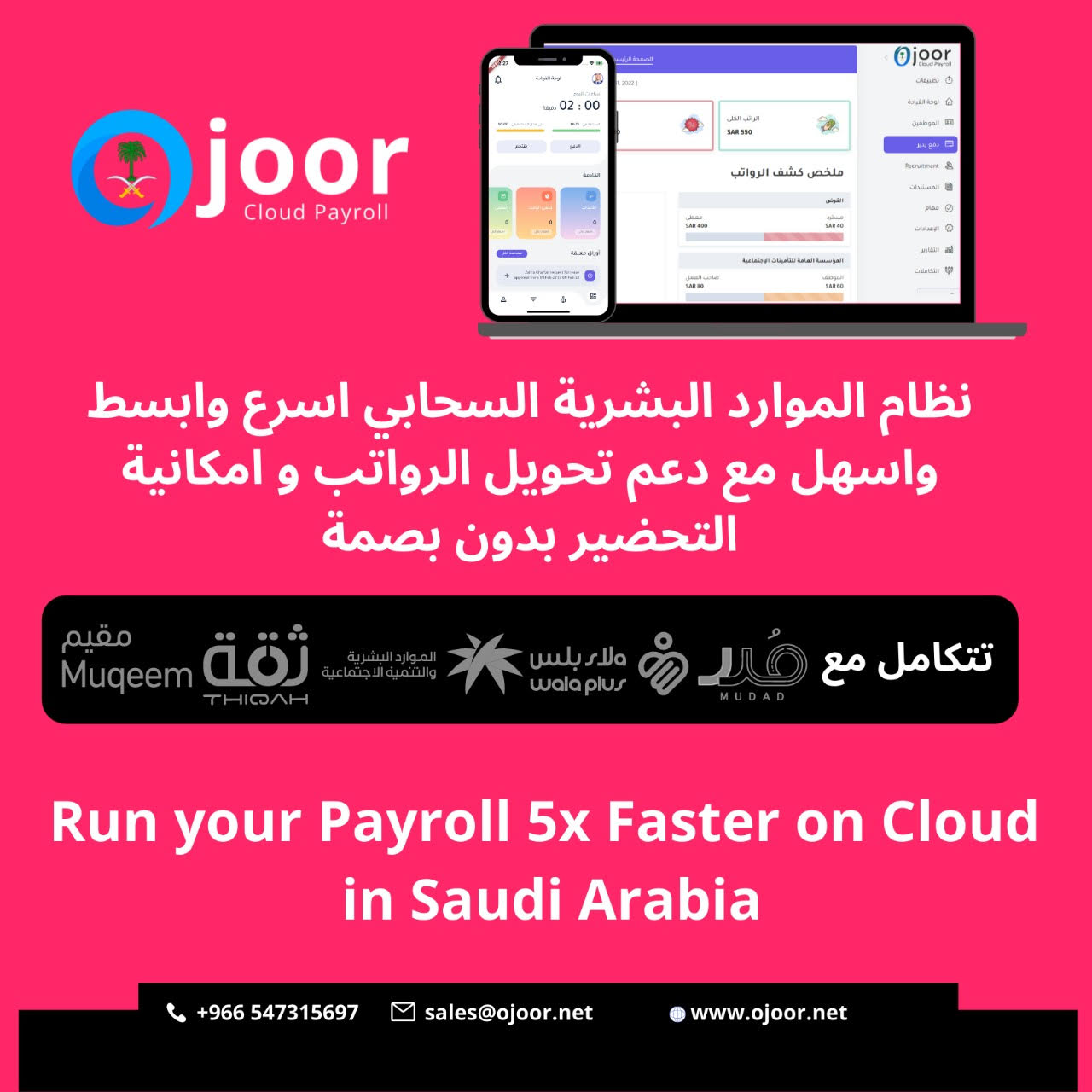 In this blog, we will delve into how HR software contributes to maintaining employee engagement.
Streamlining Communication
Effective communication is the cornerstone of employee engagement. HR Software in Saudi Arabia platforms provide centralized communication channels that facilitate seamless interaction among employees, teams, and management. Features like instant messaging, discussion boards, and virtual collaboration spaces bridge gaps between remote and in-house employees, fostering a sense of belonging and connection. Regular updates, company news, and open forums for feedback create an inclusive environment where employees feel heard and valued.
Performance Management and Feedback
HR software enables organizations to implement structured performance management systems. It allows supervisors and employees to set goals, track progress, and provide continuous feedback. Regular feedback, rather than annual reviews, helps employees stay aligned with company objectives and fosters a culture of improvement. Additionally, performance analytics provided by HR software offer insights into individual and team accomplishments, enabling recognition and rewards that further boost engagement.
Personalized Learning and Development
Investing in employee growth not only enhances their skills but also keeps them engaged. HR System in Saudi Arabia offers learning management systems (LMS) that provide access to training resources, webinars, and skill-building courses. These platforms often use algorithms to recommend personalized learning paths, aligning with employees' career aspirations. When employees see that their development is valued, their commitment to the organization deepens.
Flexibility and Work-Life Balance
Modern HR software solutions cater to the growing demand for flexible work arrangements. They facilitate remote work, flexible hours, and job sharing, enabling employees to achieve a better work-life balance. When employees have more control over their schedules and work environment, they tend to be more engaged and satisfied. HR software helps manage these arrangements seamlessly, ensuring that productivity and collaboration remain high, regardless of the location or time zone.
Recognition and Rewards Programs
Recognizing and appreciating employees' efforts is vital for engagement. HR Software in Saudi Arabia often includes features for implementing recognition and rewards programs. Managers can publicly acknowledge top performers, and peers can give shout-outs for collaboration. With gamification elements, such as badges and points, these programs make engagement fun and encourage healthy competition. Tangible rewards, such as gift cards or extra time off, further motivate employees to invest in their work.
Wellness and Employee Assistance
Employee well-being significantly influences engagement levels. HR software may incorporate wellness programs and employee assistance resources. These offerings range from mental health support to fitness challenges. Automated reminders for breaks and stretching exercises can also be integrated to promote a healthy work routine. When employees feel that their holistic well-being is a priority, their commitment to the organization deepens.
Surveys and Feedback Mechanisms
Listening to employees is crucial for understanding their needs and concerns. HR software enables the creation and distribution of surveys and feedback forms. These tools gather valuable insights into various aspects of the work environment, from job satisfaction to suggestions for improvement. Analyzing this data helps HR professionals make informed decisions that positively impact engagement. Moreover, involving employees in the feedback process empowers them and demonstrates that their opinions matter.
Data-Driven Decision-Making
HR Software in Saudi Arabia provides access to a wealth of data related to employee engagement, performance, and satisfaction. By analyzing this data, HR professionals can identify trends, patterns, and areas for improvement. Data-driven decision-making ensures that engagement strategies are tailored to the specific needs of the workforce. This approach increases the effectiveness of engagement initiatives and contributes to a culture of continuous improvement.
Automating Administrative Tasks
Reducing administrative burdens on HR staff frees up time for more meaningful engagement activities. HR software automates tasks like leave management, attendance tracking, and benefits enrollment. This automation minimizes errors and allows HR professionals to focus on strategic initiatives that directly impact employee engagement.
Conclusion: Elevating Employee Engagement Through HR Software
In a world where employee engagement directly influences organizational success, leveraging HR software is a smart move. By providing streamlined communication, personalized development opportunities, flexibility, recognition programs, and more, Employee Management Software in Saudi Arabia empowers organizations to create a work environment where employees feel valued, supported, and motivated. As technology continues to evolve, HR software will likely become even more sophisticated in enhancing engagement, ultimately driving the growth and prosperity of businesses across industries.

HR Software in Saudi Arabia
HR Software in Saudi Arabia
HR Software in Saudi Arabia
HR Software in Saudi Arabia
How HR Software in Saudi Arabia maintain employee engagement? similar software solutions prices were updated on 2023-12-10T17:31:54+00:00  in Saudi Arabia in Mecca, Medina, Riyadh, Khamis Mushait, Yanbu, Jeddah, Dammam, Unaizah, Uqair, Ha'il, Ta if, Al Bahah, Dhahran, King Abdullah Economic City, Najran, Diriyah, Qatif, Khafji, Jubail, Abqaiq, List of Cities and Towns in Saudi Arabia, Ras Tanura, Turubah, Jazan Economic City, Knowledge Economic City, Medina, Khobar, Abha, Tabuk, Saudi Arabia,




similar software solutions prices were updated on 2023-12-10T17:31:54+00:00  We also provide in Saudi Arabia services solutions company in Hafar Al-Batin, Udhailiyah, Al-Awamiyah, Hofuf, Hautat Sudair, Buraidah, Tayma, Duba, 'uyayna, Saihat, Al-Kharj, Al-ula, Jizan, Rumailah, Ar Rass, Arar, Shaybah, Al Majma'ah, Rabigh, Dhurma, Haradh, List of Saudi Cities by Gdp Per Capita, Badr, Sudair Industrial City, Baljurashi, Shaqraa, Al-Khutt, Habala, Ad Dawadimi, Dawadmi, Layla, similar software solutions prices were updated on 2023-12-10T17:31:54+00:00  Price is SAR 100 and this was updated on updated on 2023-12-10T17:31:54+00:00

similar How HR Software in Saudi Arabia maintain employee engagement? software solutions prices were updated on 2023-12-10T17:31:54+00:00  in Saudi Arabia in Haql, Afif, Al-Abwa, Farasan, Al-Jaroudiya, Thadig, Al-Thuqbah, Al Wajh, Almardmah, Al-Zilfi, Muzahmiyya, Prince Abdul Aziz Bin Mousaed Economic City, Tharmada'a, Skaka, Um Al-Sahek, Sharurah, Tanomah, Bisha, Dahaban, Al Qunfudhah, Qurayyat, Saudi Arabia, Ha'ir, as Sulayyil, Al Lith, Turaif, Al-Gway'iyyah, Samtah, Wadi Ad-Dawasir, Az Zaimah, Safwa City, Jalajil, Harmah, Mastoorah, Hotat Bani Tamim, Jabal Umm Al Ru'us, Rafha, Qaisumah, Al-Ghat, Hajrah, Al-Hareeq. Excerpt: Jeddah (also spelled Jiddah, Jidda, or Jedda; Arabic: Jidda) is a Saudi Arabian city located on the coast of the Red Sea and is the major urban center of western Saudi Arabia similar software solutions prices were updated on 2023-12-10T17:31:54+00:00  Price is SAR 100 and this was updated on updated on 2023-12-10T17:31:54+00:00
23-08-2023